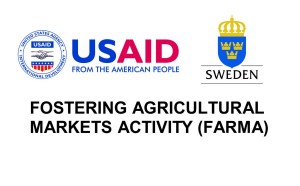 Donor: FARMA Project
ACED signed an agreement with FARMA to implement education programme and provide consultancy services to agricultural producers and processors with a view to improving their business activities.
FARMA (Fostering Agricultural Markets Activity) is a four-year project for development of agricultural and processing sector in BiH, implemented by the United States Agency for International Development (USAID) and the Swedish International Development Cooperation Agency (Sida).
The goal of FARMA is to provide quick, sustainable and comprehensive economic development through demand driven assistance aimed at improved competitiveness of BiH agricultural and food products.
ACED's role on this project is to assist a group of agro-food producers and processors in the North-West region of BiH through training and consultancy services covering the following topics: basic principles of business planning, product marketing, marketing research and making business plans, farm record keeping and financial analysis.
This activity will help participants improve and expand their business operations.
News