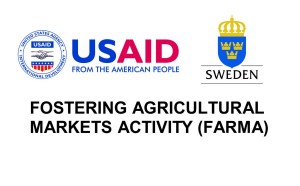 Donor: FARMA Project
ACED signed a contract with FARMA project on education and implementation of GlobalGAP standards for fruit and vegetable producers (F&V) in BiH.
The contract will contribute to one of the project objectives, which is related to the increase of the agricultural sector competitiveness through the introduction and adoption of EU standards. The purpose of the contracted activities is to raise awareness about GlobalGAP (Good Agricultural Practices) standards among key fruit and vegetable producers in BiH, as well as to help selected producer organisations implement GlobalGAP standards and become ready for certification.
ACED will provide advisory assistance to agricultural producer organisations to assist them in implementing GlobalGAP standards and preparing them for certification. To this end, ACED will provide 8 training workshops covering the following topics:
•General outline of the standard
•Standardisation and certification process
•Experience in implementation of GlobalGAP standards in BiH
•Importance of GlobalGAP
News