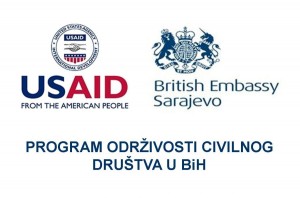 Donor: European Commission through the "Sarajevo 2014" Program
Agency for Cooperation, Education and Development – ACED is implementing the project "Establishment of Cross-sectoral Network for Agriculture and Rural Development" since July 2014. within the Civil Society Sustainability Program – CSSP. This program is funded by the U.S. Agency for International Development (USAID) and the British Embassy in BIH, and implemented by Center of Civil Iniciative (CCI) and Promoting Center of Civil Society (CPCD). Total project value is 73.314 $.
Implementation will last for next four years and in this period ACED will work on strengthening civil society organisations involved in agriculture and rural development in BIH, and createing conditions for civil society to be effective in designeing and implementing public policies with the interests of citizens, especially of the rural population.
Results of the project will be establishment of Cross-sectoral Network for agriculture and rural development, then building capacities of this network as well as the definition of sectoral issues and advocacy to solve these problems through public campaigns.
News